Southport, Connecticut may never be the same after Saturday, May 4th when world famous graffiti artist, John 'Crash' Matos produces a live installation of a spray painted mural with his signature bold shapes and dazzling color on the historic facade of Southport Galleries. The celebrated street artist will "tag" the front windows of the 100-year-old restored hardware store, home to Southport Galleries, where his exhibition of new work, Hide N' Seek continues through June 1st.
This family friendly event will be a rare opportunity to watch this master of public art and leader in the contemporary art scene in action. Crash's Popeye Graffiti Wall Mural in the Bowery was picked by Time Out New York as one of New York City's most important outdoor attractions.
Southport Galleries will donate 10% of any of Crash's original art or prints sold during the live installation to support "Save the Pequot Library."
What: CRASH into Southport: A live installation by world famous graffiti artist, John 'CRASH' Matos.
Where: Southport Galleries, 330 Pequot Avenue, Southport, CT 06824
When: Saturday, May 4, 2013, 12-2PM. Weather permitting.

NOTE BELOW: CRASH's New York City Popeye Mural on the cover of this week's Time Out New York.
Outdoor art: Amazing public art and street art in New York
New York is packed with dazzling public art installations, street-art murals and witty graffiti. Use our guide to plan a day out to see NYC's best outdoor art.
By Time Out editors
Tue Apr 23 2013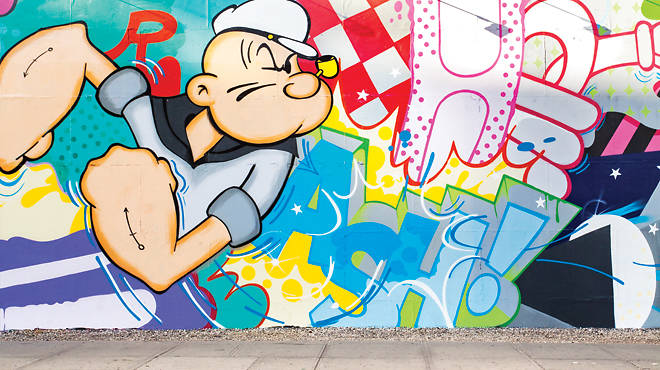 Popeye Bowery Graffiti Wall mural by John "Crash" Matos
Photograph: Krista Schluetta

Southport Galleries
www.sissybiggers.com